Do you need a milk cooling tank?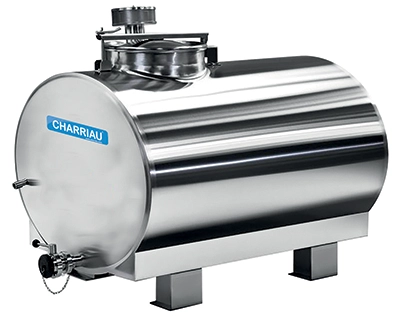 300 to 4000 litres
GENERAL DESCRIPTION
TT tanks are isothermal tanks made of stainless steel that ensure that milk is transported under good conditions. They guarantee a stable temperature for a long period of time, are easy to install on a large number of vehicles or trailers and allow collection from different producers.
All TT tank models have a double wall in high quality AISI 304 stainless steeĺ insulated with polyurethane foam, in respect of the environment, in order to keep the milk cold during transport (8-12 hours) without using a refrigeration unit.
The qualitý and surface treatment of the stainless steel and the washing system prevent the smallest deposit of milk, thus avoiding microbial development and alteration of the transported milk.
FUNCTIONAL CHARACTERISTICS
One or more compartments: partitioning the interior into one or more compartments contributes to the safetý of the transport by limiting the swaying of the milk during braking and also allows the milk to be separated from different sources. Each compartment has its own milk drain valve.
Washing: integrated systeḿ with water circuit and ball diffuser for perfect cleaning and disinfection of the tanker after each use.
Elliptical tank: oval-shaped tank for a low centre of gravitý. Robustness and endurance to cope with the stresses due to transport.
INSULATION :
Type INTERVOL RFN-24. Two-component polyurethane rigid foam. The expansion gas used is HCFC 141b (CFC-free). Densitý: 40 kg/m3 (DIN 53420) Compressive strength: 20 kPa (DIN 53421). Thermal conductivitý at 24°C: 0.023 W/m°K (DIN 18164). GAUGE RULE:
High precision stainless steel (AISI 304) gauge rule for easy and direct reading in mm. Standard measurement table (litres).
The tanks comply with EU regulation 98/37 on the safetý of machinery, have the CE mark and meet international standards EN 292-1, EN 292-2, EN 294, EN 349, EN 418, EN 1672-
1, EN 60204.
Adopted International Standard: DIN 8968-1986,MOD ; NF U36-101-1987 bulk milk cooler. ; GOST R 50803-1995 refrigerated bulk milk tanks. general requirements ; GOST R 50803-2008, IDT ; DS/ISO 5708-1985,IDT ; NEN-ISO 5708-1984,IDT ; UNE 68-049-82
TECHNICAL CHARACTERISTICS
Stainless steel 18/10, DIN 1.4301, AISI 304
Easy installation on a van or truck
Horizontal elliptical tank with one or two individual compartments. Thickness of the inner jacket: 2.00 mm.
Outer shell thickness: 1.50 mm.
Type of insulation: INTERVOL RFN-24. Insulation is achieved by precise and controlled injection of environmentally friendly high density polyurethane foam. Two-component polyurethane rigid foam system. The blowing agent of the foam is HCFC-141b (CFC-free). Density: 40 kg/ m3 (DIN53420) Compressive strength: 20 kPa (DIN53421). Thermal conductivity at 24°C: 0.023 W/m.°K (DIN18164).
Smooth inner surfaces, rounded corners, perfectly polished welds.
From 1 to 3 milk outlets depending on the model.
PVC screw cap DN50 with stainless steel chain.
AISI 304 stainless steel manhole Ø 400mm, raised to avoid any overflow, waterproof.
Pre-installation for CIP with a Ø25 mm washing tube and ball diffuser.
Vent with stainless steel plug, can be used as milk inlet.
Specially designed stainless steel feet for suitable mounting on trucks.
OPTIONS :
POMPE À LAIT INOX TRIPHASÉE 400V/50Hz – 0,75 kW – 10 m3/h AVEC ASPIRATION EN D.40 ET REFOULEMENT EN D.25 AVEC DN40
POMPE À LAIT INOX MONOPHASÉE 220V/50Hz – 0,75 kW – 10 m3/h AVEC ASPIRATION EN D.40 ET REFOULEMENT EN D.25 AVEC DN40
POMPE À LAIT INOX 12V – 0,37 kW – 2,6 m3/h AVEC ASPIRATION ET REFOULEMENT EN 1″1/4,
Contact Charriau now! We have several brands of used milk cooling tanks of different capacities in our stock. You will find what you are looking for.