Do you need a milk cooling tank?


Vigilait

under monitors your milk tank
Forgot to switch on at first milking
Tank disconnected
EDF outage
Failure of the cooling unit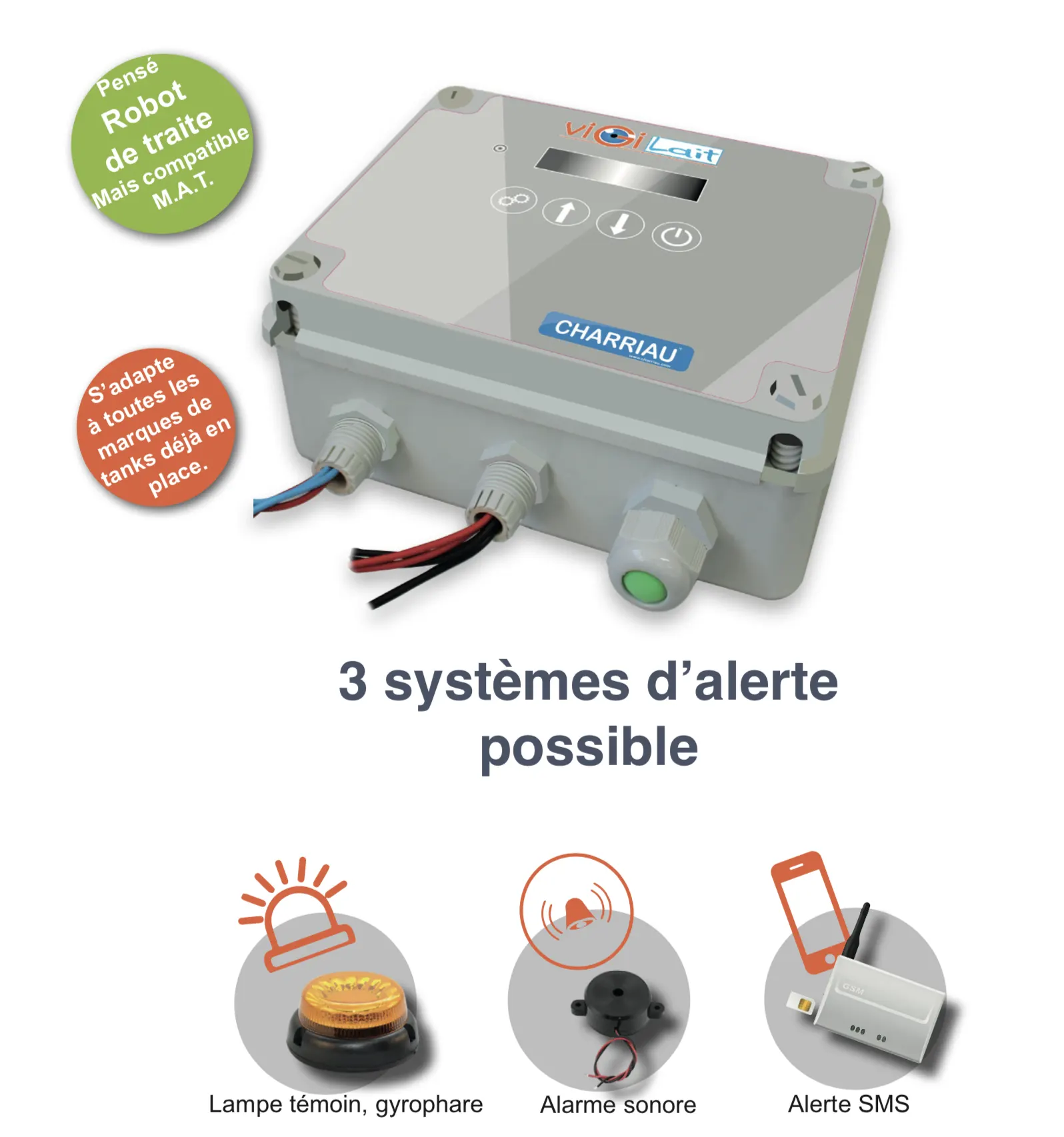 TECHNICAL OVERVIEW
The aim is to create an alarm module that is independent of the milk tank and can be adapted to all existing and future equipment.
This module, initially designed for robotic milking systems, will also have to be adapted to "classic" milking systems
The 230V power supply will be taken from the milk tank. The control of the alarm relay and the fault display will be maintained in the event of a power failure by means of a lead battery.
The system status and alarms will be displayed on a backlit 2×16 character LCD display. The different states to be displayed will be as follows:
TàL wash, TàL monitoring
Temperature below threshold, above threshold tempo not expired, above threshold and tempo expired.
Voltage supply present, absent – TàL fault present absent
A few parameters will allow the module to be configured:
Type of milking (RoT, MàT)
T° fault threshold (°C0 to 20°C) -T° fault time (min 0 to 600) (T1)
Type of monitoring activation: o Auto
Tempo (min 0 to 600) (T2)
T° variation (°C/min +/-0.1 to 1°C/min)
The card's parameters will be set using the screen and 4 buttons integrated on the card, which will require the removal of the front of the case.
TECHNICAL DESCRIPTION
Mounted in a 200×150 waterproof plastic box with cable glands.
The box will be equipped with a transparent front panel for the display, a self-adhesive lexan screen-printed with your colours will be stuck on it.
4 Phases+Neutral inputs on a 4-point plug-in terminal block with a 7.62mm pitch. The power supply (230VAC) of the card will be derived from these and the presence of the 3 phases will be monitored.
1 digital input for tank washing (dry contact) on a 2-point plug-in terminal block with a 5.08 mm pitch.
1 digital input Tank Fault (dry contact) on detachable terminal block 2 points at 5.08mm pitch.
1 digital temperature sensor input (same as washing programmer).
1 alarm relay output (dry contact) NO + NC on removable terminal block, 3 points, 5.08 mm pitch.
4 pushbuttons (on the board) Plus, Minus, Enable and Return
1 LCD display 2×16 characters with white backlight.
1 lead-acid battery input (supplied) with integrated battery changer on removable 2-point terminal block with 5.08 mm pitch.
Contact Charriau now! We have several brands of used milk cooling tanks of different capacities in our stock. You will find what you are looking for.